Digitas
Thanks: 8
Views: 1219
Digitas Finance – "Pay ZERO TAX!"
Hi All,
Since joining the forum 10 months ago, many forum members have asked me if I could consult for them on their tax matters.
Due to limits on my time, I have only been able to help a small number of select clients, but the sheer number of requests has convinced me to hire more tax consultants, CPAs and chartered accountants to support the large number of affiliates who would like tax assistance.
Based on the enquiries, I am pleased to announce the launch of our business "Digitas Finance".
We are a global tax consultancy firm exclusively serving affiliate marketers.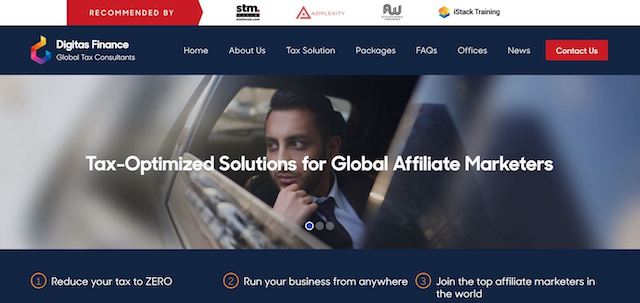 We offer tax-optimized solutions designed exclusively for affiliate marketers and entrepreneurs working in online marketing-related areas such as e-commerce, lead generation, SEO, online gaming, online video, content marketing and influencer marketing.
We have saved over $25 million in taxes for our clients, some of which include:
-5 of the top 10 affiliate marketers in the world,
-8 of the top affiliates on the STM Forum,
-One of the most successful lead generation companies in the UK, and
-The #1 affiliate marketing conference in Europe and Asia (AWE/AWA).
Our team consists exclusively of Certified Public Accountants (CPAs), Association of Chartered Certified Accountants (ACCAs) and the Association of Chartered Accountants (ACAs). Our team has held accounting positi ...